Africa
Uganda: A Tyrant's Legacy
Sarah Coleman
World Press Review associate editor
<![if !vml]>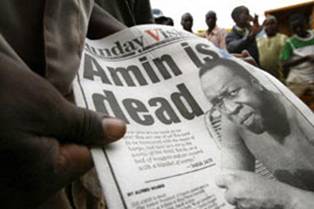 <![endif]>
Few Ugandan newspapers mourned the death of Idi Amin (Photo: Marco Longari/AFP-Getty Images).
Former Ugandan dictator Idi Amin died on Aug. 16 in a hospital in Saudi Arabia, where he had been in a coma since July 18. Amin's illness and death sparked a hot debate in Africa about how the exiled strongman should be remembered. Ugandans argued over whether Amin should be granted the right to burial on his native soil, and whether he should be pardoned or prosecuted for the brutality he visited on Uganda.

"There is renewed interest in Amin because people who suffered under him in one way or another—and that means most Ugandans—feel that, by his death, justice will finally have been done," wrote Michael Okema in The East African (July 28).

Amin, who had lived in comfortable exile in Saudi Arabia for a decade, was never charged with crimes committed under his 1971-79 regime, during which up to 400,000 people were killed or "disappeared." In addition, some 60,000 Ugandans of Asian origin were expelled from the country, and army officers from the Acholi and Langi tribes—thought by Amin to be hostile to him—were systematically murdered.
Amin, who had lived in comfortable exile in Saudi Arabia for a decade, was never charged with crimes committed under his 1971-79 regime, during which up to 400,000 people were killed or "disappeared." In addition, some 60,000 Ugandans of Asian origin were expelled from the country, and army officers from the Acholi and Langi tribes—thought by Amin to be hostile to him—were systematically murdered.

Amin's rule was "one of the most memorable, infamous, absurd, nightmarish, dramatic, and crucial in modern world history," wrote Timothy Kalyegira in The Monitor (July 28). Rumored to be a cannibal, the sexually rapacious Amin once wrote to Britain's Queen Elizabeth, "Dear Liz if
you want to know a real man, come to Kampala." In
1974 he stunned the United Nations General Assembly by condemning Israel and praising Adolf Hitler.

"Forget that crap about a person being presumed innocent until proven guilty. It just doesn't arise in the case of Amin," wrote Uganda's presidential press secretary Mary Karooro Okurut in the Sunday Vision (July 27). Others criticized President Yoweri Museveni's government for failing to bring Amin to justice before he lay on his deathbed. "If the... government felt so strongly against Amin's atrocities, how come there was no attempt to extradite him from Saudi Arabia [previously]?" wrote James Tumusiime in The Monitor (July 29).

Prior to Amin's death, his supporters argued that he should receive a presidential pardon in the name of national reconciliation. But, as Moses Byaruhanga pointed out in the Sunday Vision (July 27), "the president can only pardon a person...after a conviction by a court of law." Now that he is dead, Amin cannot be tried posthumously.

On July 27, the Sunday Vision reported that Amin's relatives were preparing a grave for him at Tanganyika, Uganda. "He's an old dog that can't bite, and he's on his deathbed, so he can't be of any harm," Kampalan driver Leonard Ssanguuda told the Mail & Guardian (July 25).

Others disagreed. "I shudder to think that a genocidal tyrant can purchase his immunity...by living to a ripe old age in exile and gorging himself to death," wrote Austine Ejiet in The Monitor (July 28). "This is not acceptable."
---

From the October 2003 issue of World Press Review (VOL. 50, No. 10) http://www.worldpress.org/Africa/1502.cfm