Uganda -News

---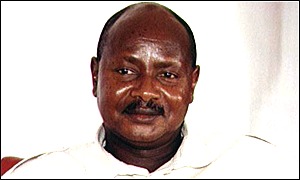 President Yoweri Museveni, who introduced the "Movement" system when he seized power after a five-year guerrilla struggle in 1986, argues that it is an alternate form of democracy. Under the current system, political parties are allowed to exist but not to organise. Elections are instead held on the basis of individual merit, and anybody can stand for office, but not on a party platform. Museveni argues that Uganda's troubled past - up to half a million people were killed between 1971-1986 in state-sponsored violence - is due to political parties exploiting ethnic, tribal and religious divisions.
Museveni, Kagame for Rwanda-Uganda Rally
The Monitor (Kampala) October 17, 2000
Dusman A. Okee Kampala
Uganda's President, Lt. General Yoweri Kaguta Museveni, and his Rwandese counterpart, Major General Paul Kagame will flag off the 900km Rwanda- Uganda Fraternity Rally due on Oct. 27 in Mbarara.
Clerk Of the Course (C.O.C) Jimmy Dean told The Monitor yesterday that he has already written to the two presidents and that all indications are that they will honour the invitation.
The two presidents will be in Mbarara by Oct. 27, ahead of the Ntare School Old Boys get-together on Oct. 28 (they have already confirmed their attendance for the OB's meeting).
"One of the reasons, I believe, the two presidents will meet is to cement the relationship between the two countries, and this has always been our objective as organisers," said Dean. Dean also said the rally will be launched this Friday at a venue yet to be disclosed. The draws to determine the starting order will be held on the same day.
Scrutineering of cars will be on the morning of Oct. 27, and flag-off will be in the afternoon as machines roar for the first four sections before heading for the Kigezi hills, and later for Rwanda.
The rally is sponsored by Regional Air, Sonarwa Insurance, Akagera Motors, Windsor Umubano Hotel, Lake View Hotel and Petrol Uganda.
Drivers in so far:
Satwant Singh, Charles Muhangi, Wycliff Bukenya, Hannes Kruger, John Ngujiri, B. Patel, Emmanuel Kazungu, Natalie Cox, Nazim Aslam, Algit Mangeti, Rudi Cantenhede, Keita Natal, Dipu Ruparelia, Andrew Kimula, Giovanni Storchi, E. Mitrouse and wife
<![if !supportEmptyParas]>

Ebola outbreak
16 October, 00, BBC
International non-governmental organisations (NGOs) are pulling aid workers out of northern Uganda in fear of an Ebola outbreak that has killed at least 43 people. The Norwegian Refugee Council (NRC) has evacuated its international staff from Gulu to the capital Kampala, 225 miles away, and instructed its local staff to stay at home or leave the affected area. The International Committee of the Red Cross (ICRC) and Save the Children have also evacuated workers, and local press reports say that the Catholic Relief Service, International Organisation for Migration and Action Contre la Faim have done the same. "We have to take measures to protect our staff," said Oddhild Gunther, head of the NRC's International Department. The ICRC said it did not expect its four workers to return to northern Uganda before the beginning of November. Outbreak spreading The NGOs are pulling out as the disease appears to be spreading. While the outbreak appeared to be confined to the town of Gulu at first, there have now been cases reported in neighbouring Kitgum district and in a suburb of Gulu.
Cases have also been reported in the Atiak and Amoru refugee camps. "It will be very difficult if it has spread there, Ms Gunther said. "They are piled together," she said of the people in the camps. "It will be a devastating experience." International aid Experts from the World Health Organisation (WHO) and the Centers for Disease Control (CDC) have been sent to Uganda to help fight the outbreak. Reinforcements on the way Infectious diseases control expert Diarrhoea nursing expert CDC-run diagnostic laboratory 300 kilogrammes of supplies, including gumboots, goggles, disposable gloves, and disinfectants Germany, Ireland, Italy and Japan have pledged funds to pay for the rapid-response team. But although the WHO has also sent medicine and protective clothing, hospitals in the region are overwhelmed. Gulu district is one of the poorest areas of Uganda. Uganda's Ministry of Health has established a national task force to fight the outbreak. Officials have said they can contain the outbreak and have asked people not to panic. They have also established a public education programme to teach people how to avoid spreading the disease.
<![if !supportEmptyParas]>

Monday October 16 6:39 AM ET Ebola 'Like Watching Someone Dissolve'
By David Fox
NAIROBI (Reuters) - At first you feel a dull aching in your joints and a slight tightening of the chest and sinuses. It could be a cold, or even a touch of the flu.
Within hours, you will start to sweat and experience feverish shifts in temperature. Perhaps it wasn't flu after all, but malaria picked up on that African holiday.
Within days you are likely to be in tooth-grinding agony. It is painful to open your eyes and your head feels as if it is about to explode. Bafflingly, doctors still have no idea what is wrong with you.
Only once you start bleeding from every orifice -- including your eyes and ears -- might they suspect you have the Ebola virus. By then it will almost certainly be too late.
``It is a really nasty disease. It is like watching someone dissolve before your eyes,'' said Barbera Kerstiens, a Belgian doctor who worked on Ebola during an outbreak in the Congo two years ago.
Ugandan and United Nations health authorities Monday confirmed that the deadly disease which has killed at least 33 people in northern Uganda in the last two weeks is the Ebola virus, one of the most terrifying infections known to mankind.
You cannot be vaccinated against it and there is no cure. Doctors can merely try treat the problems that the virus is causing. But with even the best medical treatment available, the survival rate is less than three patients in 10.
Not only is it highly contagious, it is also super-fast and can kill within 48 hours..
Finally, it is a horrific way to die -- your blood literally pouring out of veins and arteries into your body and out through your eyes, ears and mouth.
Ebola was named after a river in the Democratic Republic of the Congo where it was first recognized in 1976 when an epidemic killed more than 270 people.
Since then, Ebola outbreaks have been reported from Gabon, Sudan and the Ivory Coast, with individual cases of infection reported in Britain, where a laboratory worker was infected by a contaminated needle in 1976, and in Liberia.
The most recent reported outbreak was in 1996 in Gabon, when 60 people were infected. About 75 percent of them died.
The virus has also been the basis for at least three Hollywood blockbuster movies, usually involving scores of extras dressed head to toe in sinister biological contamination clothing, an evil tyrant who threatens to expose the world to the virus and a hero doctor in a race against time for a cure.
The exact origin of the Ebola virus remains unknown, medical experts say.
It has some characteristics similar to the HIV virus that leads to AIDS and some scientists also believe it may have made a species leap from animal to human at some stage.
But they do know how deadly it is.
``There are only a few facilities in the world secure enough to test and do research on Ebola,'' Kerstiens said. ``Fortunately most outbreaks have been in remote areas and have been contained.''
<![if !supportEmptyParas]>

Soggy Chapatis Go With Bad Government
The East African (Nairobi) OPINION October 12, 2000
Charles Onyango-Obbo Kampala
Most Indians in Uganda are business people or shopowners. And most Koreans are expatriates who work as engineers on various construction projects.
Now, an India and a Korean have struck out in very different directions - they are hawkers on the streets of Kampala. The two have become a hot topic on FM radio call-in programmes.
Nearly all the callers are angry, wondering how foreigners can come to the country to compete with Ugandans for "lowly" jobs like hawking.
Ugandans feel very strongly about outsiders coming in to take over "the small show."
This is a hypocritical attitude, of course, since there are thousands of them abroad doing "lowly" jobs, also known as kyeyo.
In the financial year 1999/2000, kyeyo workers abroad remitted more than $400 million to their families in Uganda, twice as much as the country bagged from coffee, its main foreign-exchange earner.
Without kyeyo money, thousands of Ugandans would be going hungry and children wouldn't be in school.
While Ugandans continue to travel abroad to do odd jobs, back home the popular butt of their jokes is what are called chapati or mandazi investors.
These are mostly Indians who came to Uganda and set up restaurants, or small joints selling food items like chapatis.
Here then is the difference between "native" Ugandans, and foreigners who come to the country and beat them at business.
Most vendors in Uganda remain vendors all their lives. A lot of the Indians who arrive in the country with nothing but a return ticket and begin by cleaning floors, then later move to selling chapatis, do so for at most two years.
By the third year, they have made enough money to open a shop in the "lower side" of the city. How do they make it?
They sleep on the floors of the restaurants where they work, thus saving the money they would have spent on rent and electricity.
They don't drink. They don't take on women.
To most of them, being a hawker is just a stepping stone to bigger things.
The Ugandan hawker, on the other hand, will most probably move into a small one-room accommodation (a muzigo) and invest in a girlfriend, the moment he starts making money. Next he will put his money into a small-time beer business called bitanda because the booze is stored under the bed.
Before long, the Ugandan hawker cannot afford to keep his house; he loses his little money in the petty beer trade, is abandoned by his girlfriend, and can't even be a hawker anymore.
Ugandans also make a mistake of scoffing at chapati and mandazi making. Because they think cooking is a lowly job that doesn't require an expert, they put up with a lot of bad restaurants.
Just how bad the situation is, is evident from the fact that Kampala has only one true master at chapati-making. He is a chap called Abbas, who operates out of a restaurant in Wandegeya, the lively town at the foot of Makerere University.
Anyone who wants to lay on a party with some serious chapati is well advised to head for Abbas's place.
This says two things about the future of Uganda.
First, because we still put up with so much bad cooking even though food is basic to our survival, we will also tolerate bad governments for a long time to come.
Secondly, if our chapati-makers can't beat a fresh arrival from India, who used to be a cab driver in Delhij and has turned cook upon arrival in Kampala, how can we beat India in making bicycles?
The entry of Indian mandazi makers and the Korean hawker is therefore a boon. It brings some serious competition to these very basic industries.
If Ugandans can beat the foreign mandazi investors, they will have moved one step toward taking on the rest of the world. Or, more realistically, the rest of East Africa. -----------------------------------------------------------
Here is the recipe for Mandazi (Mamri):
This is taken from: "A spicy Touch" Volume 2 by Noorbanu Nimji (originally from East Africa):
Mandazi African Coconut Doughnuts
Makes 12. 1/4 cup warm water 60 mL 1/2 tsp. sugar 2 mL 1/2 tsp. dried yeast 2 mL 1/4 7 OZ. (200 g) pkg. 1/4 pure creamed coconut 1/4 cup water 60 mL 1 1/2 cups all-purpose flour 375 mil 1/2 cup sugar 125 mL 1/3 tsp. coarsely ground 1.5mL cardamom
oil for frying
Place water in a bowl and sprinkle with sugar and yeast and let rest for 10 minutes. Dissolve coconut cream in ¼ cup (60 mL) water. Combine flour, sugar, cardamom and yeast. Gradually add the coconut cream mixture and knead to make a pliable dough. Let rest, covered, overnight. Divide the dough into 3 equal parts and roll each into a 6' (15 cm) circle about 1/4"(1 cm) thick. Cut each circle into 4 segments. Let dough rest on a floured surface or on a tray until it rises, about I hour or until double in size. Deep-fry the pieces in medium-hot oil, 575°F (190°C), until golden brown. Serve by itself or with Bharazi
<![if !supportEmptyParas]>