From Uganda to East Anglia (BBC article)
12 September 2002
September marks the 30th anniversary of Idi Amin ordering 60,000 Asians in Uganda to leave the country. Some of those who fled reflect here on the new lives they have made in Norfolk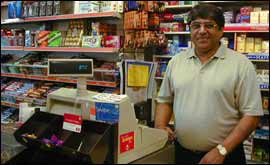 Having arrived in England with nothing, Ranmal Keshwala built up a thriving family business.
Thousands died in the confusion and violence which followed President Idi Amin's edict that Asians should be driven out of Uganda.
Back in 1972 there was extreme hostility directed at the Asian community in the African country. They were resented because of their relative wealth and accused of failing to mix with the indigenous population.
Stripped of their property, they were left with nothing but a British passport. Among those who fled to the UK were Hasu Devlukia, her husband Nachiket and their young daughter.
Running for their lives

Hasu Devlukia
"We felt awful. We had property there, we had businesses there but we didn't have a choice. We had to run for our lives," said Hasu Devlukia.
The family ended up in Norwich where some relatives were already living.
Ranmal Keshwala, his wife and baby son moved to the city after spending some time in a settlement camp in Suffolk and moved to Norwich when he found a job in the city.
But making a new life in a strange country was a challenge for the families.
"It was very strange, it's hard to go to a new place where you don't know anything. My wife couldn't speak any English, it was hard but we got through it," said Mr Keshwala.
New friends in Norfolk
Support from employers, the authorities and the church was essential to the immigrants as they tried to carve out lives for themselves.

Reverend Alan Webster
"The British government said they had British passports, that they would be a great asset to the country and we must house them," explained Reverend Alan Webster, the former Dean of Norwich Cathedral.
The Devlukia family initially lived in Cathedral Close and spent their first Christmas in England with the Dean and his family.
Friendships formed at work in those early days in Norfolk have stood the test of time.
"People at Startrite were so kind," explained Hasu Devlukia. "I made lots of friends. One of them is Hilda Hope, she's 85 years old and still comes to see me if I need any help."
No place like home
The Ugandan Asian community has prospered in Norfolk. The Devlukia family has been running a post office in Norwich for the past 15 years.
Ranmal Keshwala has just passed the family business, a small supermarket in Sprowston, to his son.
"My life is here," he said. "You go anywhere, you go to London for a couple of days, get fed up and want to come home, that's what it's all about."
http://www.bbc.co.uk/norfolk/features/ugandan_asians.shtml
<![if !supportEmptyParas]> <![endif]>


Back