Uganda - Historical Sites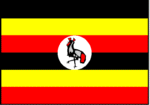 Discover some of Uganda's Historical Sites
Archeology tells us that prehistoric man walked the earth in what is now Uganda, and many sites have been excavated that show habitation over the centuries. One of the more recent excavations is at Kiboro near Lake Albert, where there are traces of village life going back a thousand years.
Recorded history has a much shorter tradition, and a documentary evidence of Uganda's past goes only 150 years. However, oral traditions are also important to us, and from these we learn stories of several hundred years ago.
The 19th century was a period of great change and great strife in Uganda. Many of the most famous sites are associated to this period.
Important sites that relate to people and events in Uganda's rich past are now popular places for tourists to vist.
Kasubi Tombs-Kampala
5km north-west of Kampala on the Hoima road, is the traditional royal burial place of the late Kabakas Mutesa I, Muwanga, Daudi Chwa and Mutesa II. This historical site was once the place of Buganda Kingdom. Muzibuazaala-Mpanga is a magnificent round thatched building 14 metres in diameter.
Wamala Tombs - Mpigi
The shrines of Kabaka Suna II were built at Mpigi in 1856. He was the son of Kabaka Kamanya, and was the first Kabaka to receive Arab traders.
Kabalega's tomb, Mparo near Hioma
Kabalega was the ruler of the Bunyoro from 1869 until sent into exile by the British in 1899. He returned to Uganda in 1923 and died at Jinja.
Karambi tombs, Kabarole
These are the tombs of Daudi Kyebambe (Kasagama) and George Kamurasi Rukidi II. The Kingdom of Toro arose in the early 19th century when Prince Kaboyo, son of Kyebambe, the ruler of Bunyoro rebelled against his father.
Kalema's Prison Ditch (Tambiro) - Mpigi
The site is 16km west of Kampala. Kabaka Kalema (1888-90) was a Muslim who reigned during times of religious strife. He had succeeded his brother Kiwewa (1888), who had himself succeeded his younger brother, the deposed Kabaka Mwanga. Kabaka Kalema had thirty close relatives killed in this ditch.
Muganzilwazza's Earthwork, Kyebando - Kampala
The earthworks were built by Kabaka Mutesa I as a prison, but were never used.
Baker's Fort, Patiko - Gulu
Built by Sir Samuel Baker in 1872 to suppress the slave trade and in an attempt to annex Bunyoro.
Nyero Rock Paintings - Kumi
The impressive rock paintings are on a granite hill known as Moru Ikara near the Village of Nyero. The rock face is decorated with ornate designs, canoes and zebra.
Bweyore Capital site - Mbarara
Ankole traditionas tell us that Bweyore was chosen on several occasions to be the Omugabe's capital. The first occupation was by Omugabe Kasasira in about 1650. It was also used by Karara, son of Macwa at the end of the 18th century. The last time the site was used as the capital was under Rwebishengye, a contemporary of Kabaka Kamanya.
Nkonkonjeru Tomb - Mbarara
This is the tomb site of Kahaya II Gasyonga II, and other members of the Kingdom of Ankole.
Fort Lugard - Kampala
British Fort established by Captain Lugard in 1890. The existing building was built between 1908 and 1910, and was the seat of British government for many years. The ramparts were destroyed during the Amin period.
Kiwewa's tomb, Masanafu - Mpigi
Kiwewa's period of 1888 is refered to as the year of the three Kings, namely Mwanga, Kiwewa, and Kalema,and was a period of religious strife. Kiwewa was put to death on the orders of his brother Kalema.
Katasiha Fort and Cave - Hoima
This fort was established in 1894 by the British to subjugate Omukama Cwa II Kabalega, and is 2km north-west of Hoima. Kabalega had used the cave as a hideout.
Kigezi Memorial - Kisoro
This memorial, 4km from Kisoro, marks the agreement in 1912 between Britian, Belgium and Germany that settled colonial boundaries, and established the District of Kigezi.
Namugongo Martyr's Shrine
This shrine, 12km from Kampala on the Jinja road, commemorates the 20 Ugandan Christians burnt alive by Kabaka Mwanga in 1886.
The Slave Route
A new Africa-wide project identifies ancient slave routes that traversed the Continent, and indicates some important sites within Uganda, revealing both the historical as well as social legacies of this era. A Slave Route map can be obtained from the National Museum.
Historical Sites - see http://imul.com/uganda/index.html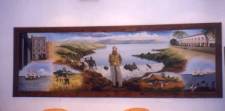 speke painting

Contents

Home page - expatriates displaced in 1972 exodus..

Links Page - further info on Uganda.

Page - general interests.

Page - other general and economic information.
Back to Uganda Forum Home page